Custom Printed Stickers
Stick Out From the Crowd
Imagine your logo on everything! We offer stickers types for every surface: choose our 60lb Semi Gloss or 60lb Gloss Stickers for everyday use, or our permanent Vinyl Stickers for Industrial
Jukebox stickers come in custom shapes, full color and with beautiful lustre. Custom printed stickers are perfect for event promotions and special applications such as name tags or product labels
Crack and Peel Backing
Our 60lb Semi Gloss and 60lb Gloss Stickers are available with a back-liner that is cut through without cutting into the attached sticker. This allows for easier removal of a sticker in cases where the backer is cut flush to the shape of the sticker. Looking for hard hat stickers? click here
Sticker Inspiration
Starburst Sticker with Gold Foil
Starburst Sticker with Gold Foil produced on 60lb crack and peel. Designed by: Heather Klar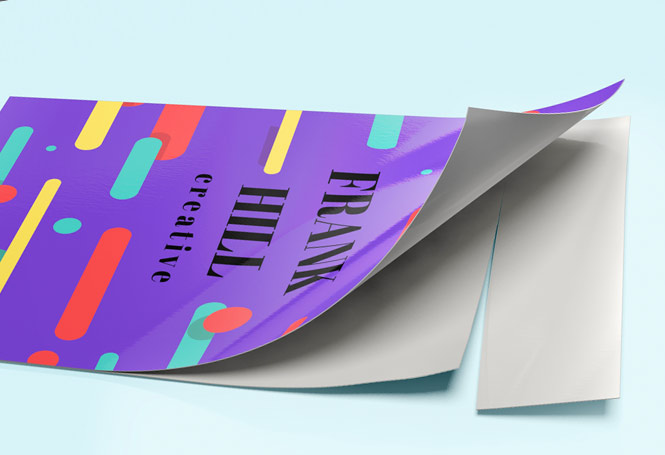 Super Gloss Stickers
60lb Gloss Sticker
Standard - 3.5" x 2"
Offset
Starting From
{"CAD":89,"USD":69,"EUR":55}
Buy Now
Square 2.5" Stickers applied to Blue Berry packaging box
2.5" Circular stickers with black ink and gold foil
60lb Semi Gloss Sticker
Circle - 2.5" Diameter
Digital
Foiling
Starting From
{"CAD":455,"USD":369,"EUR":295}
Buy Now
Semi Gloss Stickers for Almond Chocolates
60lb Semi Gloss Sticker
Standard - 3.5" x 2"
Digital
Starting From
{"CAD":49,"USD":45,"EUR":35}
Buy Now
1" Stickers for Macroon Packaging
Wooden Wine Label
This wedding wine label is produced on our Smooth Birch Sticker and finished with 0.25" radius rounded corners.
Bosch and Krupt Labels
These stylish labels features a clean black ink design on our Brown Kraft Sticker.
Sticker Pricing
Add Shiny Foil
to your stickers
Authenticate with
Gold Embossed
Stickers
Popular FAQ

Design Guidelines
Most Popular Questions
Which of your Sticker options are waterproof?
It is important to note that chemicals and soaps can affect the adhesiveness of the glue on any sticker. We recommend extensive testing of the sticker you are interested in before placing your order to ensure it is suitable for your needs. 
Samples of our Stickers are available to order via a Specialty Sample Pack. They are $15; and include our Standard & Recycled Sample Packs, as well as up to 2 items from our Collections list and 2 items from our Add-ons list. You will also receive a $15 coupon to use towards your print order! Make sure to choose our Stickers and Magnets Collection in order to receive samples of all our Sticker options.
Poly Synthetic Low Tack
These stickers are fully waterproof and can be removed then re-applied to most surfaces. 
Note that inks can still fade or come off the Poly Synthetic Low Tack stickers under rough conditions, as they are not meant to withstand use in a dishwasher / washing machine. Sun exposure will also fade colors. The life expectancy for ink colors is 6 months to one year depending on the level of exposure. 
Wooden
Our Wooden stickers are water resistant, but not waterproof.
Transparent
Our Transparent stickers are also water resistant. They can still work well on a window with some minor exposure to rain.
What finish do Transparent Stickers have?
Our Transparent Stickers have a matte finish but have a slight sheen when held against light.
How do colors show up on transparent stickers?
Due to the translucent quality of ink, when printed over a transparent stock, the ink colors will be see-through and might look a lot lighter than they do when viewed on screen. This will be affected by the surface you end up placing your transparent sticker on.
For example, placing the transparent sticker over a white surface will make the colors appear more vibrant/denser/closer to how they look in your proof. If the sticker is placed over dark colored objects, this can affect how visible the printed design will be.
If you place the sticker over clear glass or a window, the colors can appear very light and will be the most see-through.
Do you offer Shaped Stickers?
Yes, we can create any of our Shaped cards as stickers! The sticker stocks available for this are 60lb Semi Gloss and Transparent. You also have the option to create your own shape via a custom order. To receive a quote on your own custom shaped sticker, please submit a custom quote here. 
What are Wooden Stickers?
Wooden Stickers are an exciting product exclusive to Jukebox – they are stickers made from a fine layer of wood.
Photograph shows the Smooth Birch Wood Sticker.
Available in the colors Birch, Cherry and Walnut, our Wooden Stickers are 13pt, have an easy-peel backing and permanent, meaning they are extremely adhesive and can stick to pretty much any surface. They are also water resistant, but not waterproof.
Our Wooden Stickers can also be:
Screen printed (with white ink or other colored inks)
Blind embossed (unless it is paired with registered foil)
Cut with rounded corners 
Ordered in custom sizes
They are suitable for:
Packaging (including glass and bottles)
Branding and labeling
Signage
We love the use of Wooden stickers for unique wine labels, as seen below.
Samples of Wooden Stickers are available by ordering a Specialty Sample Pack.
Can I order stickers that peel off a larger sheet?
Yes! These types of stickers are called "kiss cut". To receive pricing, please submit a Custom Print Quote form and ensure to provide accurate artwork files of your custom shape, including a die-line.
Have a question?
Ask Away!
Design Considerations
Design Considerations for Stickers