Perfect Bound Booklets
Clean and simple and only binding option that allows you to print on the spine.
Booklets
Feel it, Love it, Read it
Jukebox booklets are a stylish and professional package for your information, portfolio or writing.
Show off your photography or design work the right way through our superior print service and high quality materials. Nothing beats the feeling of seeing your work published in a premium bound book - we've created everything from cookbooks and children's books to technical instruction booklets and high-end portfolios. We offer different sizing and binding options to suit all needs. Choose between uncoated stocks with natural texture, or premium coatings with modern finishes; We even offer thick cardstock options for stronger, more durable covers and pages.
Order Jukebox booklets for all of your creative projects, including catalogues, magazines and calendars. Order as little as 50 booklets or choose offset output for your large quantity projects. We've got everything you need to create the next chapter in your business.
Custom Coil Booklets
Brand your business with custom coil booklets. Coils come in various sizes. Jukebox booklets are a stylish and professional package for your information, portfolio or writing.
Perfect Bound Booklets are Classy!
Perfect bound booklets are ideal for brochures, magazines or any other document where you want to guarantee an expensive look and feel from your printing and binding. We print perfect bound booklets with 100lb text stock with a premium 16pt silk cover.
Booklet Inspiration
Cobolt Blue Booklet with Copper Foil
Lululemon Coil Booklets with pulp inside pages
Perfect bound booklets produced on Vibrant Pearl and sillver foil
Mozilla Wooden Booklets produced with Gold Foil and gold coil
Cute perfect bound booklets produced with 20pt cotton cover
16 page mini booklet produced on 100lb gloss text and saddled stiched
Cookbook printed with 10pt silk cover and 100lb text inside pages.
Mini Notebook with Gold Coil
Mini Notebook with Gold Coil
Booklet Pricing
Custom Size Booklets
that meet your needs
Looking for a unique size or even shape? We can produce anything you can imagine with various coatings.
Request your custom quote today.
Coil Rings in 3 Unique Colors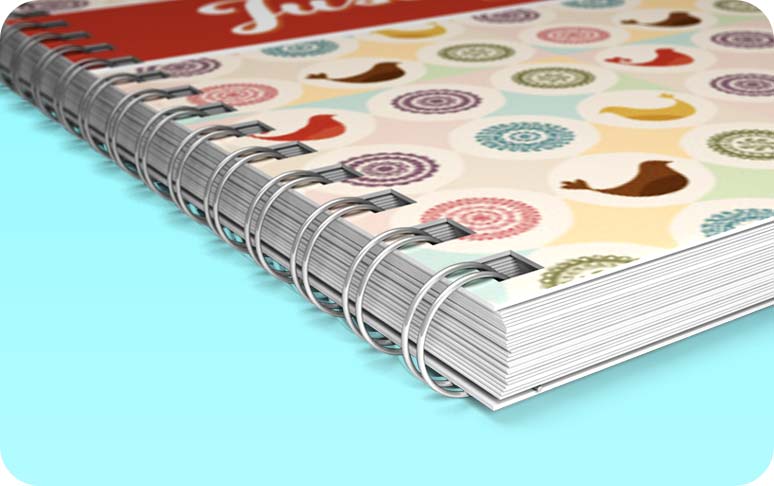 Brushed Silver
Shiny Gold
Matte Black
Most Popular Questions
Booklet bindings options
Saddle Stitched
Perfect Bound

Coil Bound (Regular)

Available via Print Quote.

Coil Bound (Hidden Coil)

Available via Print Quote.
Can I do a full bleed cover on my Booklet? Will the spine show cracking?
The covers of our Booklets (and Calendars) are scored along the spine prior to binding to avoid cracking of the ink along the spine and folds.
The amount of cracking that occurs depends on the type of binding, coating and and/or the colours of your design.
Do I need to adjust my Booklet for creep?
No, your booklet files will be adjusted for creep during our prepress processes.
Do I need to imposition my Booklet files?
No, your booklet files will be impositioned during our prepress processes.
Please supply your design files as single pages (not spreads or imposed) in one PDF. See: Press-ready files for Booklets.
Print-Ready File Specifications for Booklets
Below are the general specifications and notes for preparing a booklet file for print:
Image Resolution: at least 300 PPI (at 100% view)
Colour Mode: CMYK 
Margin / Safety Margin (inside): at least 0.5" 
Margin / Safety Margin (top, bottom, outside): 0.125"
Bleed (all sides): 0.125"
Page Count:includes all sides of the final booklet (when closed and including the cover). For example, an 8 page booklet consists of a 4 page cover and 4 inside pages.

Page 1 - Front cover
Page 2 - Inside front cover
Page 3 - First "internal" page (right-hand-side)
Page 4 to 6 - Other internal pages
Page 7 - Inside back cover
Page 8 - Back cover
Saddlestitched or Coil Bound
Supply 1 PDF file with multiple single pages (including covers)
Perfect Bound
Supply 2 separate PDF files:

Covers: 2 pages (inside and outside) of flat/spread cover (make sure to include spine)
Internal Pages: multiple single pages
Coil bound booklets: safety margin
When designing a coil bound booklet, it is important to consider the placement of the coil binding.
We recommend a safety margin of 0.625 inches away from the spine of the booklet.
Have a question?
Ask Away!