Design on the Edge
You've heard it before: making a strong first impression can work wonders, and a thoughtfully designed business card is an essential tool. In our increasingly impersonal world, the business card represents something tangible, a sought-after personal touch. It is a physical representation of your company and continues to speak for you even after you have handed it out, which is why a carefully chosen business card is of the utmost importance.
At Jukebox we are renowned for our exceptional craftsmanship, our ability to create innovative business cards, and our willingness to push design to the edge. This is why we have introduced a printed edge on some of our products. Edge printing is a subtle statement that elevates the simple – often overlooked – elements, adding character to your product and letting potential clients know you care about even the smallest details.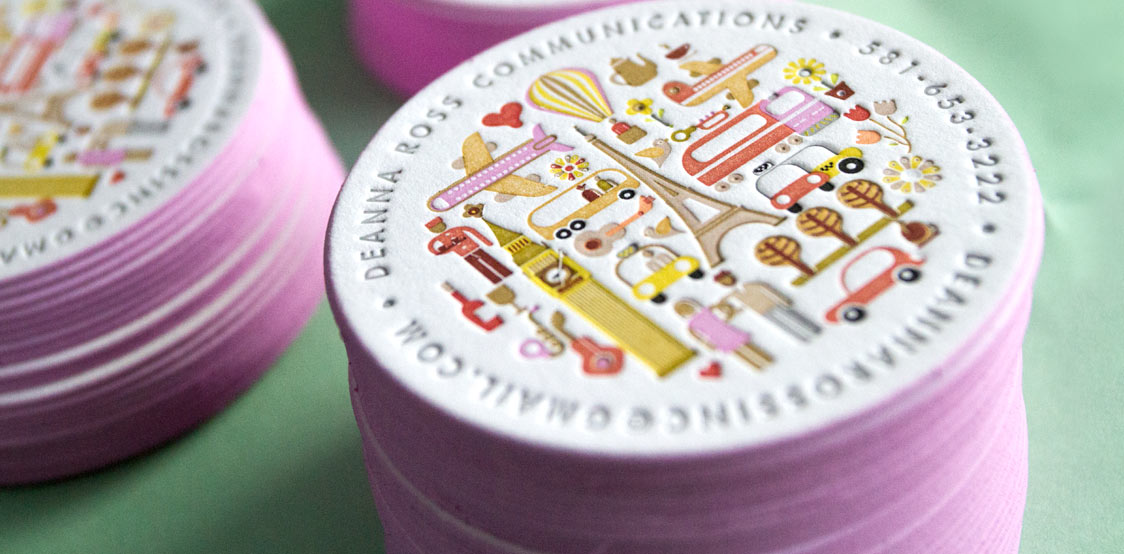 Edge printing (or gilding, to use the technical term) has been used to embellish books since the Middle Ages. Bookbinders used this decorative technique on valuable books such as religious illuminated manuscripts, gilding the edges with burnished gold. The traditional gilding process involved applying heat over gold foil or grinding gold leaf into a powder and mixing it with binder, so it could be easily applied to paper. Over the centuries, this practice evolved from using just gold foil to the obscure art of fore-edge painting popular in the 18th century, where intricate pastoral scenes or landscapes were painted on the fanned-out fore-edge of the leaves and concealed by the gilt when the book was closed.
Nowadays, gilding or fore-edge printing on books has become a unique and rare decoration. However, at Jukebox we have a passion for traditional craftsmanship with a contemporary flair, and we want to bring that extra special touch to your project with a modern and innovative twist. Edge colouring can be done on any stock we carry, regardless of its thickness. The thicker the stock, though, the stronger the impact. And we offer two styles of edge colouring: foiling or painting the edges.
Edge foiling is preferred if you want to achieve a rich and lavish look. It can be done by using either standard foiling, such as gold, silver, and copper, or – for the ultimate wow factor – holographic foil edges on black cards.
Painted edges are recommended for a more natural look; however, this doesn't mean that you can't be creative. Choose a shade that matches your brand logo or a simple yet elegant crisp white edge on colour stock. For a fun and bold statement go for alluring fluorescent edges on brown kraft cards; use lustrous metal tones for a creative metallic effect that imbues a sense of splendour; or choose gradient edge colouring, playfully changing from one hue to another.
Edge coloring doesn't stop at business cards and can be applied to almost any of our products. Just imagine the impact of a notepad with foil or painted edges. When keeping the design on the page to a minimum to allow plenty of space for jotting things down, the edge of the block is the perfect place to add your signature colour.
Request your sample pack today and put a spin on your business card to create a memorable first impression.