15 Minimalistic Business Cards with A Modern Twist
While innovative business card designs are considered revered miniature works of art, a clean, simple, minimal concept can prove incredibly effective when it comes to dazzling potential clients or customers. And yes, minimal business cards are all the rage these days.
Like all trends worth their salt, their popularity comes in waves and as fast as they disappear, they circle back stronger than ever: the plain, simple and impactful business card is no exception.
We appreciate savvy simplicity which is why we've hand-picked 15 inspiring vintage business card designs from around the world. Now, when we say vintage, we mean vintage. No, not the swinging 60s, glitzy 70s or the yuppie-booming 80s. We're talking about the 1800 or 1900s. Contrary to popular belief, the clean and minimal business card design didn't start in the 20th Century. In fact, it all began shortly after the dawning of the 1800s.
To put the power, impact and enduring genius of these mega-vintage designs into perspective, here is a rundown of our 15 hand-picked designs. We wish you could smell, feel and see the past in the reflection of these business cards. These creations, while minimal, are powerful and very thick to the touch, offering a more robust feel and look than a great deal of today's modern business cards.
Oh, and the best thing is, we now have these as part of our ever-growing choice of business cards - behold.
The Ramon Alcon
Designer unknown, date: ~1870
The business card design of the Prince of Monaco himself, this elegant yet simple creation oozes regal sophistication and the red logo at the top center is both striking and digestible to the eye.
The Mr. E. K Benson
Designer unknown, date: ~1870
The symmetrical black border surrounding this business card gives it a real edge and the infinite white space saturating the body serves to accentuate the font in a way that says, 'look at me'. A real gem of a minimal business card.
The Arthur T. Parker
Designer: Arthur T. Parker, date: 1830
This design is particularly unique as not only is it designed by its owner but it's handmade with a calligraphy pen. This may be a time-consuming process, but if you have an expert hand, like Mr Parker here, the results are clearly sensational.



The Mary Baker C. Eddy
Designer unknown, date: 1850
First of all, Mary Baker was the founder of the Church of Christ, Scientist. Secondly, she founded The Christian Science Monitor, a global newspaper that has won several Pulitzer Prizes. And thirdly, this was her business card. Fun, playful and unequivocally straightforward, this card perspires personality. Oh, and don't forget, Mary only takes calls between 3pm and 5pm.
The Mr. Edward A. Kimball
Designer unknown, date: ~1914
Clean business cards were all the rage, even over a century ago, and this prolific lawyer's tasteful creation is no exception. With an Old English font style and a dainty script name, this card means business - and we're sure Mr. Kimball was never short of clients during his long and ensuring law career because of this design.
Also, what's particularly exciting about this design is that it has a personal, handwritten message on the back - something that was commonplace over 100 years ago.
The Dr. Walter Wolston

Designer unknown, date: ~1889
This cute, charming and compact miniature business card (dimensions: 2.5 x 1.25") has inspiring features, including the number 46 font in the bottom left. The name conservatively displayed in the card's center is a classy yet impactful creation if ever we saw one. Check out the doctor's opening time - one only knows what Walt was doing in between working hours.

The Edward A. Kimball

Designer unknown, date: ~1902
This Mr. Kimball (what are the chances of two Edward K's in the same line up?) loved to experiment with different styles and particularly enjoyed playing with a script and typewriter font.


Albert Einstein business card, date: ~1933
To showcase the striking sizing, design, look and feel of this particular Kimball masterful creation, here it is compared to the bronzed retro majesty of a certain Dr. Albert Einstein's business card.
The Fred Burt & Co
Designer unknown, date: 1888
This script font woven into the fabric of this design is simply beautiful and undeniably elegant. What makes this card even more special is the numbers pencilled in on the side of the card - a subtle hint of genius.
The Miss Nellie Goldthwait
Designer unknown, date: 1888
Oh yes, people rocked rounded corners back in the 1800s, and here's the evidence. Possibly the first-ever rounded corner business card produced, this historic creation boasts a beautiful script centred on an ageing cream stock - and the forward-thinking simplicity of this design stacks up to most business cards around today.
The H.E. Dennett
Designer unknown, date: 1885
A cute and charming layout with a simple and sophisticated font used. Having the "over" displayed in the bottom right corner reminds everyone your next appointment is due.

The George Brown
Designer unknown, date: 1866
Even a commander in the US Navy needs a simple business card design from time to time - and it's safe to say that this powerful figure indeed opted for a powerful font. The name is bold as are the hard edges of this colossal creation, yet the rest is ever so plain, clean and simple - pure class.
The Milo Thompson
Designer unknown, date: 1896
Simple, smooth and super classy, this italicized card shares Milo's unique approach to personal branding while creating an air of mystique. Moreover, the font allows the white space to shine and allowing the font to shine on a luxurious blank canvas.
The José Merelo
Designer unknown, date: 1890

This particular creation stands out due to its deep impression and thick, soft stock - a very classy letterpress creation, indeed, sporting a beautiful contrast of creativity and professionalism. A piece of trivia here for you: El Brigadier translates to The Brigadier.
The Eleanor W. Brodhead
Designer unknown, date: 1889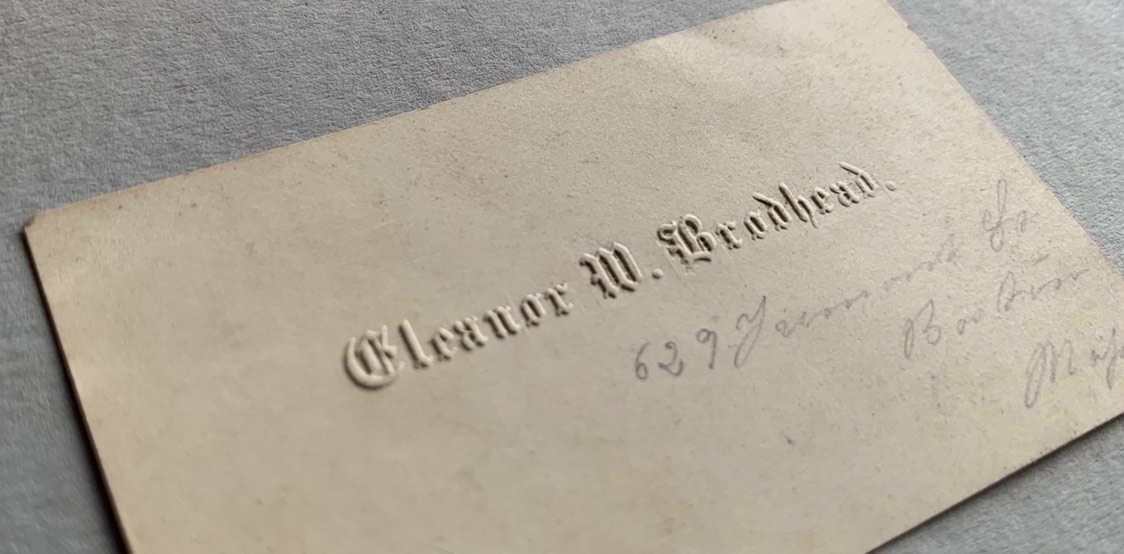 Having a blind embossed business card in today's age is considered luxury. But having blind embossed for a card in the 1800's is even more breathtaking. This card gleams thickness, texture and most of all, a sharp blind embossed texture. Ms. Broadhead sure had class and sophistication.
The Miss Dart
Designer unknown, date: 1866
What can we say but, wow! This amazingly simple yet savvy concept is the cream of the vintage crop, and the fact that it's enclosed in its very own miniature envelope is priceless.
A beautiful example of blind embossing
The envelope itself is marked from Shreve Crump, a fine jewellery company from the 1770s, and the finish is impeccable. Whoever Miss Dart is, she sure has class, and bundles of it.
Each of these business cards are quite different but equally impactful in their own way. If you're looking for something simple and elegant that packs a real punch, these 15 miniature masterpieces will provide endless amounts of inspiration.
All those years ago, telephones were considered a luxury (and there was, of course, no social media), meaning that there were less details to include on business cards. As a result, these minimal creations reaped the benefits of the kind of clean simplicity that let the white space around the font do the talking - making an incredible impact - and you can achieve the same results.