Get Your Business Ready To Reopen With Social Distancing Stickers
Over the past few months, the behavior of the world has completely changed. Practices like wearing face masks, social distancing, and staying home to flatten the curve, have become the norm. For businesses, this has meant operating with less staff, introducing alternative services, and closing its doors had to be implemented for the safety of the public. As we move forward and governments have started lifting specific regulations, businesses need to be prepared to welcome both staff and the public into their workplaces in a safe way. But how do companies do this while adhering to social distancing? The solution is easier than you think.
How Businesses Have Enforced Social Distancing
Social distancing stickers have made a significant impact in public spaces during the COVID-19 pandemic. This simple solution has directed and informed the public of social distancing regulations while keeping everyone safe and healthy. Businesses like grocery stores quickly adapted to social distancing regulations and were some of the first to use the social distancing stickers in-store. Today, social distancing stickers can be seen in almost every grocery store and plenty of other industries.
Have A Social Distancing Plan For Reopening Your Business
Before reopening your business, it is essential to have a social distancing plan in place, especially if you deal directly with the public. Your plan should include the following:
Identifying areas where people gather.

Rethinking workspace layout to ensure enough distance between people.

Ensuring those entering your business is limited (excluding staff).

Ensuring those entering your business is adhering to other health and safety regulations like hygiene and wearing face masks.
Using Social Distancing Stickers For Business
Once you have a social distancing plan, you can start preparing your business for its reopening. With the various types and uses of social distancing stickers, you'll be able to tick all of the safety boxes when your company opens. The versatility of the social distancing stickers means that they can be adapted to your company's needs. To help you pick the right stickers for your brand, here are a few types of stickers and how they can be used for social distancing:
Window Clings


Window Clings are a great informative tool that businesses can use to ensure that health and safety regulations are adhered to. Commonly used by new companies to inform the public that they are open for business, it can now be used to let them know that your business has reopened. Printed as big or small as you wish, these window clings can be customized to your specifications. During a pandemic, these stickers can include any of the following information:
No entry without a face mask.

Please use hand sanitizer provided before entering.

Only 5 customers allowed in-store at a time. Please wait to be let in.

Keep a distance of 6 feet from other customers.
Learn more about our Social Distancing Window Clings
6ft Social Distancing Stickers
One of the most popular stickers used in businesses, hospitals, factories, and grocery stores, these floor decals are made for social distancing. These floor stickers promote social distancing and help individuals to correctly space themselves when queuing so ensure their safety.
Learn more about our 6ft Physical Distancing Floor Stickers
Arrow Floor Stickers
With the implementation of the one-way shopping rule, these arrow floor stickers are a must-have for grocery stores. These stickers ensure that customers move in one direction and can be placed throughout stores on any type of flooring. If you've redesigned your workspace to adhere to social distancing, these stickers are a great way to point customers in the right direction.
Learn more about our Arrow Stickers
Floor Strip Stickers
No matter what industry you work in, use floor strip stickers to ensure people's social distance. These long, thin stickers clearly get the message across by not only keeping people apart but also have very clear messaging like 'please stay 6ft apart' and 'social distancing in effect' on them.
Sidewalk Stickers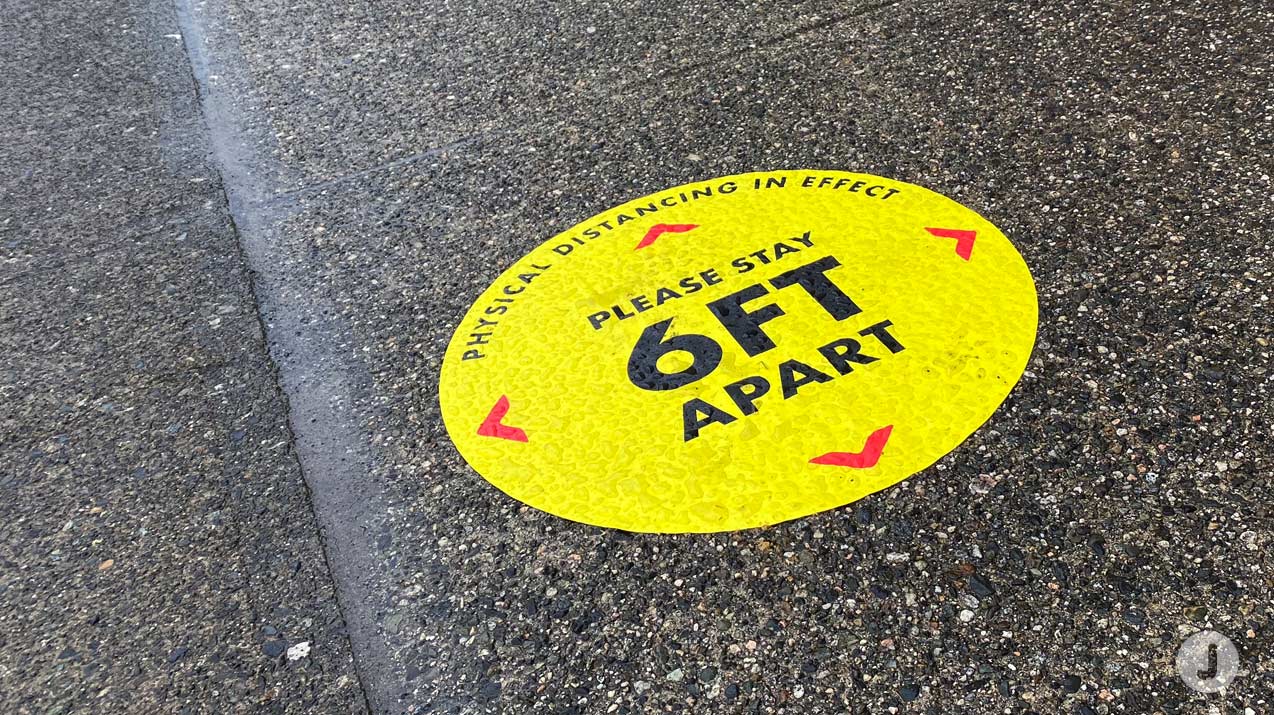 If you're limiting the number of people that enter your store, these sidewalk stickers are perfect for those queuing outside. These stickers are designed to be used outside and are made to stick on any surface, including concrete. Each sticker has a protective layer that is not only weather-resistant but also meets industry standards used by government, airport, and industrial agencies.
Learn more about our Social Distancing Sidewalk Stickers
Carpet Stickers
If your workspace is carpeted (offices, co-working spaces, etc.), you can still ensure social distancing with theses carpet stickers. These stickers promote social distancing in an obvious way and ensure that your staff and customers remain safe. Lasting up to six months, these stickers are safe to use on any carpet and won't leave any marks once peeled off.
Learn more about our Social Distancing Carpet Stickers
Ensuring your staff and customers' safety should be your number one priority when reopening your business. By adhering to safety regulations and using tools like social distancing stickers, you show anyone that uses your business that you genuinely care.