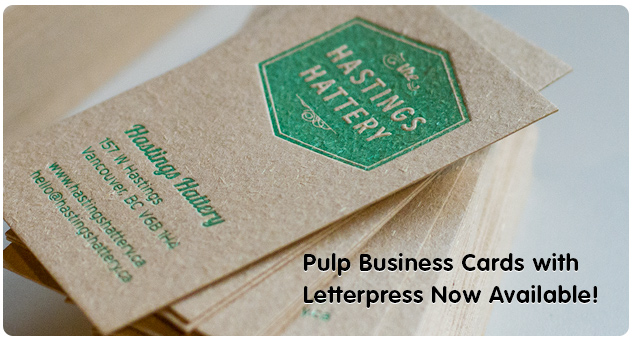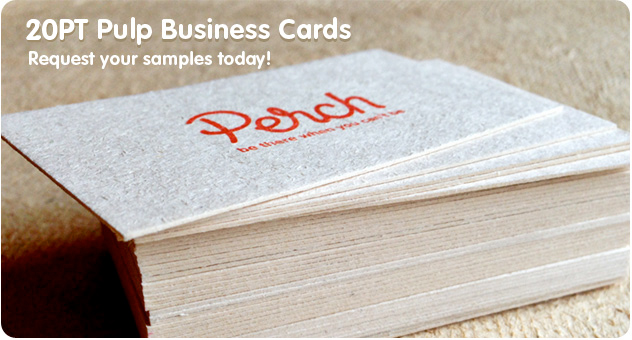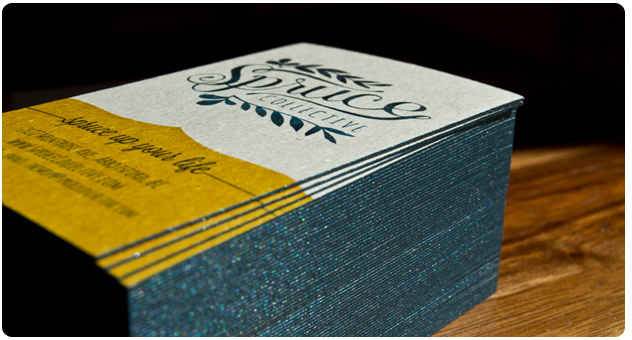 Discover the Texture of Pulp Business Cards
Combine vibrant colours and the natural elegance of Kraft paper with our latest eco friendly product. Pulp business cards are made from pulp and are 90% recycled. They have a unique, natural texture that is perfect for sustainable businesses and are a great alternative to our Brown Kraft range.
Pulp business cards are available in a range of beautiful colours: Vanilla, Off-White, Cream, Vanilla, Beige and Grey Pulp shades give you even more variety to choose from in our recycled range. The lighter Off-White and Cream options are well suited to bright designs, while the Beige and Grey options works best with darker ink colours. Vanilla has a more neutral colour and is a very versatile cardstock. We have different thicknesses of 13pt and 20pt available for some colours. To see samples of all our Pulp products order a Specialty Sample Pack today.

Off-White

Vanilla

Cream

Beige

Grey
Our Pulp shades are unique and vary slightly from each other, however may not appear colour accurate on your computer screen. Please keep in mind that monitor settings can alter the way images and colours appear to you. We highly recommend requesting samples of the Pulp cards to see and feel them in person with a free recycled sample pack. Request your samples here.
Pulp business card pricing
| | | | | |
| --- | --- | --- | --- | --- |
| 13PT Cream Pulp Business Cards | | 100 | 250 | 500 |
| | | $45 | $65 | $95 |
| | | $70 | $95 | $129 |
| | | | | |
| --- | --- | --- | --- | --- |
| 13PT Vanilla Pulp Business Cards | | 100 | 250 | 500 |
| | | $45 | $65 | $95 |
| | | $70 | $95 | $129 |
| | | | | |
| --- | --- | --- | --- | --- |
| 13PT Off-White Pulp Business Cards | | 100 | 250 | 500 |
| | | $45 | $65 | $95 |
| | | $70 | $95 | $129 |
| | | | | |
| --- | --- | --- | --- | --- |
| 13PT Beige Pulp Business Cards | | 100 | 250 | 500 |
| | | $45 | $65 | $95 |
| | | $70 | $95 | $129 |
| | | | | |
| --- | --- | --- | --- | --- |
| 20PT Thick Cream Pulp Business Cards | | 100 | 250 | 500 |
| | | $69 | $99 | $149 |
| | | $94 | $129 | $185 |
| | | | | |
| --- | --- | --- | --- | --- |
| 20PT Thick Off-White Pulp Business Cards | | 100 | 250 | 500 |
| | | $69 | $99 | $149 |
| | | $94 | $129 | $185 |
| | | | | |
| --- | --- | --- | --- | --- |
| 20PT Thick Vanilla Pulp Business Cards | | 100 | 250 | 500 |
| | | $69 | $99 | $149 |
| | | $94 | $129 | $185 |
| | | | | |
| --- | --- | --- | --- | --- |
| 20PT Thick Beige Pulp Business Cards | | 100 | 250 | 500 |
| | | $69 | $99 | $149 |
| | | $94 | $129 | $185 |
| | | | | |
| --- | --- | --- | --- | --- |
| 20PT Thick Grey Pulp Business Cards | 100 | 250 | 500 | 1000 |
| | $69 | $99 | $149 | $239 |
| | $94 | $139 | $199 | $339 |
FAQ
View more in Support Center