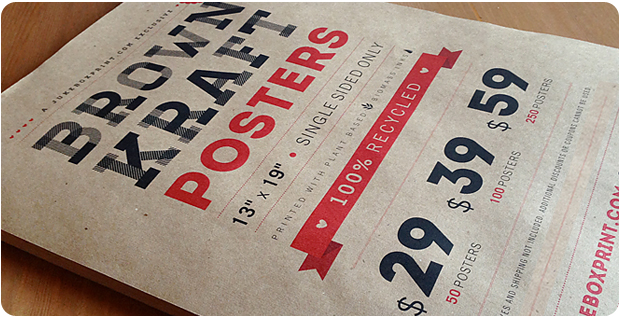 Promote your brand with Full Colour Posters
Start Designing
Your Poster

Click Here!
Jukebox Print's full colour posters are quick to produce and easy to customize! Available to order in standard turnaround or even as a Same Day Service to suit your timeline. Designing is easy using our free online poster creator, and we have a variety of paper stock options to choose from.
Aside from the popular options listed below, you can request your favourite Jukebox specialty paper for posters by custom request.
100% Recycled Brown Kraft Posters Now Available!
Our signature Brown Kraft stock is 100% post-consumer waste recycled and the perfect option for an environmentally friendly poster with an all-natural look. When clients see your posters, they know you mean business – sustainable business, that is! If you work in the healthy living or environmental industry, this natural-looking paper will advocate eco-friendly lifestyles and fit perfectly with your branding. Natural bakers, crafters, and café owners love the earthy fibrous look of recycled paper with a smooth finish.
Paper this unique creates a unique result of your printed design. Shades can shift on the brown cardstock and thin lines may be less visible, so we can help you choose a simple colour palette that takes advantage of the brown background with a minimalistic design.
Looking for White on kraft? Premium White Ink is available through a specialty screen print process. We love the look of a simple white design on this earth-toned paper. Premium White Ink is available by custom print request only. Take advantage of our monthly sale for June only: 12" x 18" Brown Kraft Posters with Premium white Ink on sale for only $99 for 50 quantity or $135 for 100 quantity. For more information please see our monthly sale page.
Environmental Logo
Show you care by adding this graphic to your poster about the environmental credentials of the paper and inks used. Download and add it to your poster design.


Download PDF
New!
Full Colour 100% Recycled Brown Kraft Posters
Printed on a 8pt stock (actual printing size: 12.5 x 18.5) single sided
Price does not include folding
Full Colour Thick Super Gloss 13x19 Posters Printed on a thick 10pt Cardstock with Super Gloss UV Gloss Coating
The super gloss coating also adds protection and durability.
Price does not include folding

Full Colour Digital 13x19 Posters Printed on a premium 100lb gloss text (actual printing size: 12.5 x 18.5) single sided
This paper stock is FSC® certfied and Inks are vegetable soy based
Price does not include folding
Full Colour 100% Recycled Brown Kraft Posters Printed on a thick 15pt cardstock (actual printing size: 12.5 x 18.5) single sided
Price does not include folding