Imagine your logo on everything! We offer stickers types for every surface: Everyday Crack n' Peel stock, Bumper Stickers and even Waterproof options.
Jukebox stickers come in custom shapes, full colour and with beautiful lustre. Custom printed stickers are perfect for event promotions and special applications such as name tags or product labels. Also available in our popular Brown Kraft stock for a unique option.
New!
Go Wild for Wooden Stickers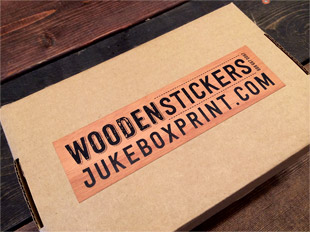 Introducing our finest sticker product - Jukebox Wooden Stickers! Add character with this premium option for your product labels or next unique marketing project. At 13pt thickness these stickers are anything but average. Add a rustic appeal to your artwork with one of four Wood options - Smooth Cherry, Smooth Kiri, Smooth Walnut or Smooth Birch. Customize the look and feel of real wood with your printed design and apply them with ease to all your products.
Stickers can be stylish with Silk Matte Laminate
Our new Silk Matte Laminate stickers offer a soft and smooth unique texture that also adds a protective layer. Classy and durable, Silk Matte Laminate stickers are perfect for high-end businesses looking for quality stickers to match their brand.
Get stickers with Super Gloss Coating
Our crack "n" peel stickers allow you to easily remove the back layer.
Enlarge
Super Gloss UV Coating is applied to all our premium offset stickers. The UV gloss makes the stickers last longer and more durable
Enlarge
Permanent Poly Synthetic Stickers (Waterproof Stickers)
Wild winters and scorching hot summers are no match for our new weatherproof stickers. These ultra-tough stickers are perfect for indoor, outdoor and industrial use. They will resist almost anything you can throw at them- water, heat, sun and cold as well as most chemicals, including alcohol. They are brighter and whiter than other waterproof stickers, allowing for beautiful design on the most durable material.
Urethane coating on acrylic adhesive makes them incredibly strong and able to handle extreme long term temperatures. Not only have they survived an oven at more than 160°C, but also Arctic temperatures of about -120°C.
Cold Resistant
to -120°C
Heat Resistant
to 160°C
Water Proof
Poly Synthetic Low Tack stickers (Bumper Stickers)
Our poly synthetic low tack stickers produce sharp images, brilliant colour and are made to last. The special top coated polyester face stock gives them durability and sun and water resistance.
These stickers will stick to virtually any surface and are also re-positionable, so can be moved again and again. Bumper stickers are the perfect application as they won't fall off your vehicle, but won't leave a residue when you want to peel it off.
Bumper stickers are available in 3" x 11" with rounded corners and can be ordered in small quantities of five or more. For specific quantities or Same Day Service bumper stickers please click here to request your custom quote.
Circular Stickers
Looking for circular shaped stickers? No problem! JukeBox offers circles and even ovals ranging from 1"- 6" in size, with larger sizes available through custom quote. Circular stickers come in all of our sticker stock options. Need stickers quicker? Please select our digital output.
Online Sticker Calculator
Total Price:
$
Plus applicable tax
and shipping
Buy Now!